By Charley Adams & Owen Amos
BBC News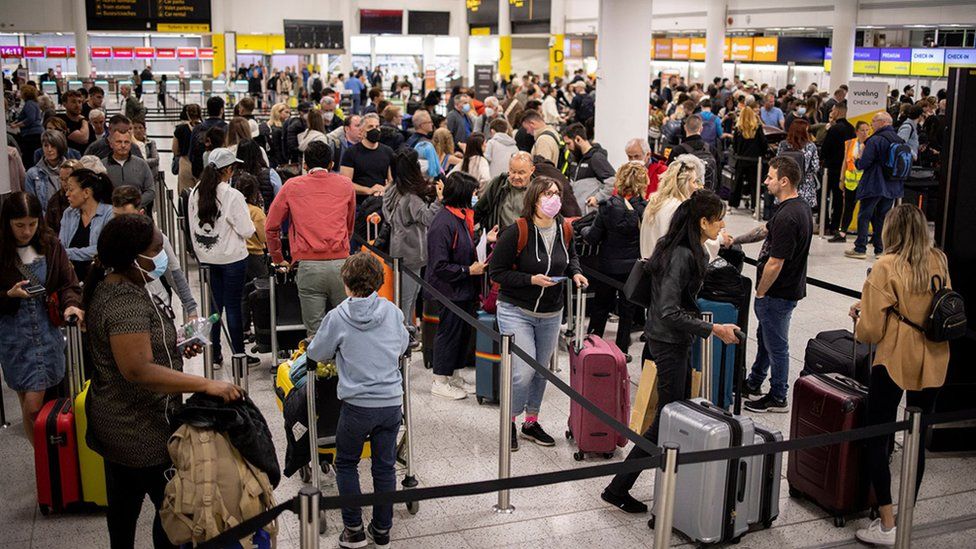 Gatwick Airport is reducing the number of flights during the peak summer period because of staff shortages.
The number of daily flights will be cut to 825 in July and 850 in August, down from 900 in previous years.
It comes after the government and regulators wrote to airlines telling them to ensure their summer timetables were "deliverable".
Tens of thousands of passengers have been hit by cancellations and delays at UK airports in recent weeks.
Gatwick said it had taken the decision following a review of its operations, to help passengers "experience a more reliable and better standard of service".
The airport said it had recruited 400 new staff to help passengers through security checks this summer, and more new recruits would start soon.
But the airport's review found many companies at the airport still had a severe lack of staff and if the issue was not addressed, passengers could experience queues, delays and cancellations.
Stewart Wingate, the airport's chief executive, said that during the week of the Queen's Platinum Jubilee, a number of companies operating at the airport struggled because of staff shortages.
"By taking decisive action now, we aim to help the ground handlers – and also our airlines – to better match their flying programmes with their available resources," he said.
It's not clear when – or even if – airlines will cancel their flights, following Gatwick's announcement. Mr Wingate said "the vast majority of flights over the summer will operate as normal".
How worried are you about your summer holiday?
EasyJet said it was "aware" of the capacity cap announced by Gatwick Airport and was "reviewing the details".
"We expect to be able to re-accommodate the majority of customers should their flight be affected by the cap," it said.
"We recognise the need for Gatwick Airport to do this… so all airlines can provide reliable services for their customers."
Ryanair said it "did not have any plans to cancel flights from Gatwick", adding: "Gatwick should be looking to the airlines who are already making mass cancellations across the UK for these cuts."
Meanwhile, Rory Boland from the consumer group Which? said that, while it may have been sensible to reduce flights now, "it certainly wasn't sensible to make this announcement without first agreeing with airlines which flights would be cancelled".
Travel expert Simon Calder told the BBC the "whole industry is stretched" – especially ground handlers and the airlines.
"This is all about avoiding the scenes of chaos at airports and actually making sure that, say, 95% of people are travelling," he said.
"Of course that's unfair on the 5% who aren't," he added.
Other airports – including Luton, Liverpool, Birmingham, and the group that runs Manchester, Stansted, and East Midlands – told the BBC they had no plans to reduce their number of flights.
Heathrow has already worked with airlines to limit passenger numbers at the busiest times of day, with some flights rescheduled or cancelled. British Airways has cancelled 10% of its summer schedule.
Can you get compensation if your flight is cancelled?
If your flight is cancelled, you have the right to either a full refund, or a replacement flight.
"And that different flight does not need to be with the same carrier – it can be an alternative, as long it flies on the same day," says Julia Lo Bue-Said, CEO of Advantage Travel Partnership.
If you and the airline can't agree on a new flight, it will refund you.
If the flight was cancelled with 14 days or less notice, you may also be entitled to compensation – but only if the airline is at fault.
"If it's a direct result of the airline, you're entitled to compensation, but if it's the airport, your compensation doesn't kick in," says Mrs Lo Bue-Said.
It's not clear when airlines will announce any cancellations caused by Gatwick's decision – but Mrs Lo Bue-Said says the advance notice should reduce disruption.
More than 150 flights across the UK were cancelled during the week of the Platinum Jubilee, as people tried to take advantage of the four-day weekend.
Airlines also suffered severe disruption during the half-term school holiday and during Easter, prompting apologies from companies including British Airways, TUI and EasyJet.
The aviation industry made thousands of employees redundant during the pandemic and many have yet to be replaced, despite a spike in demand for travel.
Following a wave of cancellations and delays at airports, the Department of Transport and the Civil Aviation Authority wrote to airlines telling them to review their schedules and to cancel flights that could not be delivered "at the earliest possibility".
Downing Street welcomed Gatwick's announcement on Friday, with a spokesman saying the move would "provide certainty for passengers ahead of time".
What checks do airport staff need?
Security checks mean it can take longer for airports to recruit staff, compared to other industries.
At a parliamentary committee this week, Richard Moriarty, chief executive of the Civil Aviation Authority, said there were two checks – one by the CAA and government partners, and one by the employers.
Mr Moriarty said the turnaround times for the first set of checks were "as good, if not better, than they were pre-pandemic".
But he said there were "blockages" in the checks done by employers, which include five years' worth of employment history.
Aviation Minister Robert Courts said changes by the government would make the process easier for employers, although "perhaps more in the medium term".
"But it is a good example of… listening [to the sector] and acting and delivering on the things they've asked for," he said.