By Alys Davies & Suzanne Leigh
BBC News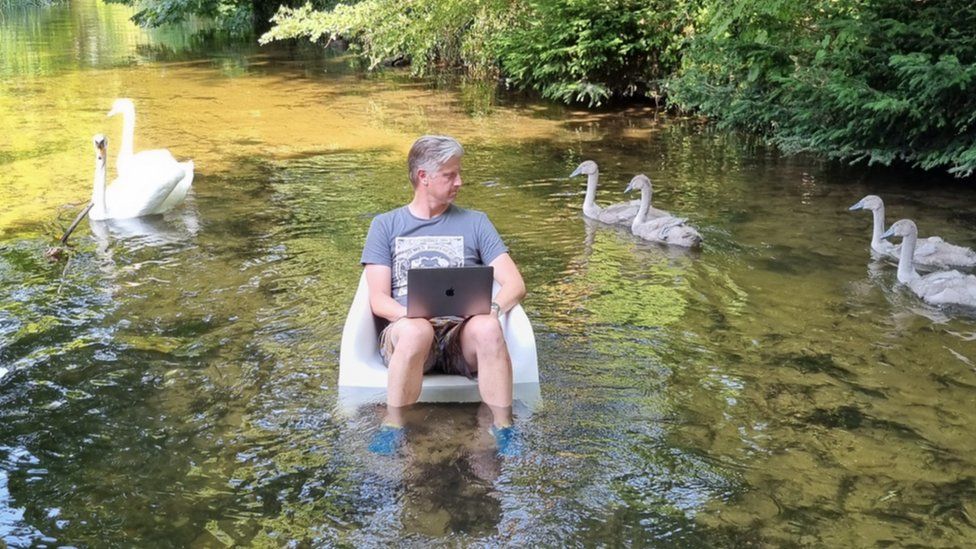 The high may have been 40.3C but, let's face it, it has been hot pretty much everywhere in the UK.
The unprecedented heat and rapid rise in temperature has sparked further concern about climate change and whether this will be the "new normal" for the UK, and whether it will get hotter still. So how have people coped?
'We're hot, the baby is hot, but we're good'
It's called labour for a reason. But it's extra hard work in the middle of a heatwave.
Adayah Richards-Clark was born on Monday morning, right when things were really starting to heat up.
Sitting in the maternity ward of St Helier Hospital in London, Adayah's mother Kade said they brought in their own fans from home to cool her down during the birth.
"I had my mum fanning me with a hand-held fan, I had my husband holding the fan right up to my face," she says.
Sitting contentedly gazing at their hours-old baby, the ward temperature was reaching 32C (89F) by mid-afternoon.
A water birth helped Kade manage the heat. "We're hot, the baby is hot; we're irritated, the baby's irritated, but we made it, we're good."
'I assumed it would rain'
It's fair to say that most tourists don't visit the UK for the weather.
In Trafalgar Square, one woman from Germany said she did not expect it to be so hot in the UK this week – in fact, she brought an umbrella as she assumed it would rain.
Meanwhile in London's Southbank, beside the River Thames, a family from the US said the weather was "pretty normal" for them.
"We're actually laughing about how big a deal it is here," they added.
They are keeping cool by eating lots of ice cream, drinking water and finding places with air conditioning.
'It's cooking the sewage, basically'
Some jobs are easier to cope in than others during a heatwave.
Sam from Milton Keynes works in water recycling, which means quite often he is working with sewage.
This heat makes it "smelly work", he said, "because it's just cooking the sewage, basically."
His uniform is also heavy duty.
"We obviously have to wear a uniform that's safe for us to work in, and of course rubber gloves on all the time. And by the time you take them off it's like a small waterfall pouring out of the glove.
"The helmet, it's the goggles, you know things like that, just get you baking in the sun."
'I absolutely hate it'
Jennet Bryan, 56, lives in Leeds in a small flat above a communal laundry. The flat is hot anyway, she said, but during the heatwave it has been "unbearable".
"I'm struggling to keep awake, feel dizzy and nauseous," she said.
Jennet has arthritis and fibromyalgia (a long-term condition which causes pain all over the body), and her symptoms have been elevated by the heatwave, she said.
"Adding to my heat levels is my oedema [a build-up of fluids in the body] which forces me to wear prescribed support tights which elevate the heat I feel.
"I don't seem to have any energy, can't cook because it's too hot and just want to leave for good.
"I absolutely hate it here."
'The swans thought I was weird'
Some home workers might have thought to buy a fan during the heatwave. But Patrick Wimble, who lives in Beaconsfield in Buckinghamshire, came up with a different idea.
"I have a little wooden office at the bottom of my garden" next to a river, he said.
"I can usually work there all year round."
But on Monday it was "just too hot," he said.
"So I thought, 'd'you know what, great idea, I've got a great big river, so why don't I just go and sit in that'."
The swans "found it a little bit weird that I was in the river" and getting the wifi to stretch was "a bit of a challenge," he said.
"But once I got that I could sit in the river for a good 45 minutes," he said – adding that it was "nice and cool".
'If I don't work, I don't get paid'
Shaf Hussain delivers in the east London area for a few different apps, including Deliveroo, Uber Eats and Just Eat.
"It's pretty normal to work in scorching hot weather," he says, adding that he's worked in several heatwaves before.
His advice to other riders is to "drink as much water as you can".
Many couriers are classed as self-employed, which means that they can choose whether or not to work in extreme weather. But Shaf says that in most cases this would mean going unpaid.
"[The apps] send out warnings [about extreme weather], but… at the end of the month I still have to pay my bills, pay my rent."
Just Eat told BBC News it had temporarily suspended deliveries in areas hit badly by the heat.
It added that it uses several different worker models for couriers, and that riders on their "agency worker model will be paid for shifts that were cancelled".
Visiting the elderly and vulnerable is a bit harder
Megan works for an agency that supplies healthcare workers to elderly people, people with disabilities and young children in Cardiff.
She said the "roasting" and "muggier" weather has made home visits a bit harder.
"A lot of [clients] do like to sit outside, they like to go for strolls and things, so when the weather's so bad… sometimes we've got to say it's not safe in the blazing heat", as people could be standing outside for long periods.
She said they are also having to take more things into consideration during home visits, such as making sure people are not in direct sunlight and covering up large windows, and that can be complicated depending on the type of house the person lives in.
Heatwave forced us to shut up shop
Megan from Thorne, Doncaster, said the temperatures in the fish and chips van she works in are always at least 10-15C (18-27F) hotter because of the proximity to the fryers and cookers. As a result, she's had to shut the van during the heatwave.
"When you work in a fish and chips van, the weather outside, you have to add at least 10-15C to what the temp is actually inside the van.
"We're in close proximity to the fryers, and to the bain maries, which keeps the peas and the curry warm."
It's normally too cold driving the buses
Gavin Thompson, who lives in Ipswich, has been a bus driver for nine years. He spent Monday working on a bus with no air conditioning.
"Yesterday was extremely hot. I was on buses to Felixstowe which is a seaside town, it was very busy, very warm, and there was no air con."
He added that wearing a uniform – albeit the summer one – in the heat was difficult. "We normally complain that it's too cold," he said, but even wearing shorts and a shirt were taxing!
Bobby's living his best life
One three-year-old dog called Bobby has been "living the life" during the heatwave in London, according to his owner Tory.
"He's had frozen smashed-up banana and peanut butter, watermelon, ice cubes, so he thinks it's great really getting all the treats! And we've been letting him go in front of the fan."
Despite the treats, Tory's had to keep Bobby inside in their flat during the heatwave, only taking him out for walks early in the morning.
"He obviously doesn't want to go for a walk right now, he doesn't cope very well in the heat, but I know tomorrow he'll be bouncing off the walls, and will probably be really naughty!"
It's not easy being pink
At the Royal Welsh Show, pigs were being lathered with sunscreen.
Award-winning pig farmer Ela Mair covered her six entrants – including five pedigree Welsh pigs – and also draped cold wet towels over her animals to keep the heat at bay.
"Pigs don't let out the heat as well as other animals so it is difficult to keep them cool," said the 45-year-old who has a farm near Pwllheli in Gwynedd.
"We put cold wet towels over them but we need to be careful that the heat doesn't dry the towels too quickly so it can reheat them.
"So we'll be keeping them in the shade as much as possible and keeping the fans on them as much as we can."
Shetland dodges heatwave
While temperatures soared in other parts of the country, the town of Lerwick in Shetland, Scotland dodged the heatwave, with a high of 14C (57F) on Tuesday.
Residents and holidaymakers in the town donned rain hats and jackets, with one local stating: "At the minute I think we could do with a little bit of sun."
She added, however, that she "certainly" did not want the kind of heat that people have been "suffering" from further south, "because up here we're not used to that kind of weather!"
Additional reporting by: Ashitha Nagesh, Hugh Pym and Rozina Sini