By Michael Race
Business reporter, BBC News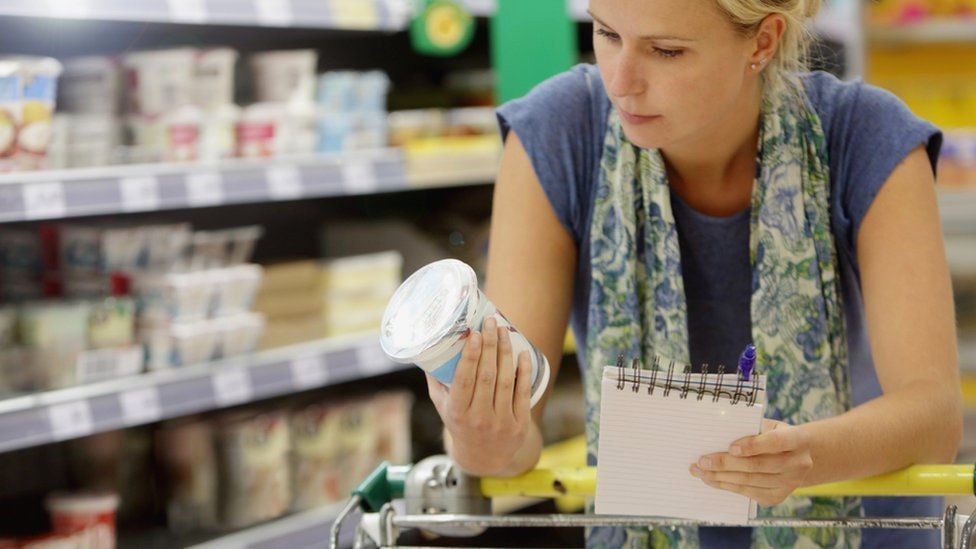 Prices are continuing to rise at their fastest rate for more than 40 years, driven by higher petrol and food costs.
UK inflation, the rate at which prices rise, jumped to 9.4% in the 12 months to June from 9.1% in May, the Office for National Statistics (ONS) said.
Petrol prices rose by 18.1p per litre in June, while costs for milk, cheese and eggs also climbed, the ONS said.
Unions have been calling for pay rises to help workers cope as the rising cost of living eats into household budgets.
Inflation is the pace at which prices are rising. For example, if a bottle of milk costs £1 and that rises by 5p compared with a year earlier, then milk inflation is 5%.
Fuel prices have soared in recent months, driven by the war in Ukraine and moves by the European Union to reduce its dependence on Russian oil.
Average petrol prices stood at 184p per litre in June, the ONS said, the highest since records began in 1990 and up from 129.7p a year earlier. The monthly rise was also the largest on record.
The average price of diesel in June was 192.4p per litre, again a record high, the ONS said.
It led to the said average family car costing more than £100 to fill up, according to the RAC. However, the AA said this week that lower wholesale costs of fuel were leading to cheaper prices at the pumps, though they still remain much higher than last year.
Elsewhere, food prices have been climbing, with costs increasing at the fastest rate since March 2009.
Milk, cheese and eggs saw the biggest rises in June, latest figures show, with the prices of vegetables, meat and ready meals also up.
Your device may not support this visualisation
Research firm Kantar has predicted supermarket bills are set to rise by an average of £454 this year. This comes as energy bills, which rose by an unprecedented £700 a year in April for a typical household, are forecast to climb again in October.
Prices charged in restaurants and for accommodation have also increased, climbing by 8.6% in the year to June, the ONS said.
Christine and Mel Simpson from Derby receive food parcels when they need them from a local food hub. But they worry that things will get worse later in the year.
"I think it depends on how severe the winter's going to be and how much inflation's going to be. Balancing the two out – we just don't know," Mel told the BBC.
Meanwhile, Rachel, who uses the Community Pantry on Hurst Farm in Derbyshire where you pay £5 for membership and can do a shop worth about £50, said the service had made a massive difference for her family, especially after she lost her job as a childminder during the pandemic.
"We live hand to mouth all the time, there's no savings. We've tried to cut down on like the heating and the water bills, we're very careful what we use each day."
Other countries around the world are also experiencing a cost of living squeeze, with many affected by the same global factors as the UK.
However, the UK's inflation rate is currently higher than then US and others in Europe, with the latest estimates of annual inflation for Germany at 8.2% and for France at 6.5%.
Paul Dales, chief UK economist at consultancy Capital Economics, said the two main causes of inflation globally were surging energy prices and worker shortages.
But he said: "The euro-zone has the first factor but not really the second. The US has the second factor, but not really the first. The UK has both. That's why inflation is highest in the UK."
EU governments had also "done more to prevent" higher wholesale gas and electricity prices being passed onto households, he added.
And while the UK's labour market was "just as tight as in the US", it appeared UK workers were "more able to bargain for higher wages", which could fuel further inflation.
Mr Dales said the "combined influence" of Brexit and the pandemic had resulted in shortages of workers, due to fewer workers coming to the UK from overseas and a greater share of people of working age "have either become unable to work or decided they no longer want to or need to work".
As Bank of England Governor Andrew Bailey said in his Mansion House speech on Tuesday night, the inflationary pressures on the economy are no longer just global, they are domestic too. The labour force has shrunk, making it harder to recruit and pushing up wages.
"This increases the risk that the inflation that has come to us from abroad gets embedded in more persistent domestic inflationary pressure, " he said.
The headline inflation rate in the UK is already the highest of the advanced G7 economies. And much criticism has come the Bank of England's way in the Conservative leadership campaign.
But labour shortages are far more directly under government policy control and yet they are barely being discussed in the leadership debate.
The higher rates of inflation will make the conversation with public sector workers yet more tense. And all roads appear to lead to a rise in base interest rates next month of half a percentage point – the biggest rise in nearly three decades.
Chancellor Nadhim Zahawi said the government was working with the Bank of England to "bear down on inflation".
"Countries around the world are battling higher prices and I know how difficult that is for people right here in the UK," he said.
But Labour's Shadow Chancellor Rachel Reeves said rising inflation could push family finances "to the brink" after a decade of slow wage growth.
"It's the result of a decade of Tory mismanagement of our economy meaning living standards and real wages have failed to grow," she said.
On Tuesday, the government announced that the police and most NHS staff would get below-inflation pay rises.
It has consistently said that big wage increases to meet the rising cost of living could end up causing a 1970s-style "inflationary spiral", but Unite General Secretary Sharon Graham said the announcements were "a kick in the teeth".
Rebecca McDonald, chief economist at the Joseph Rowntree Foundation, said rising prices were "wiping out pay increases", adding there "cost of living crisis is only worsening".
The Bank of England has warned inflation will reach 11% this year.
Bank of England Governor Andrew Bailey has said rates could rise by as much as 0.5 percentage points at its next rates meeting in August in a bid to stem rising prices. That would take them to 1.75%.
Have you been affected by rising prices? Do you have a question about the rising cost of living? Share your experiences by emailing haveyoursay@bbc.co.uk.
Please include a contact number if you are willing to speak to a BBC journalist. You can also get in touch in the following ways:
If you are reading this page and can't see the form you will need to visit the mobile version of the BBC website to submit your question or comment or you can email us at HaveYourSay@bbc.co.uk. Please include your name, age and location with any submission.