By James McCarthy
BBC News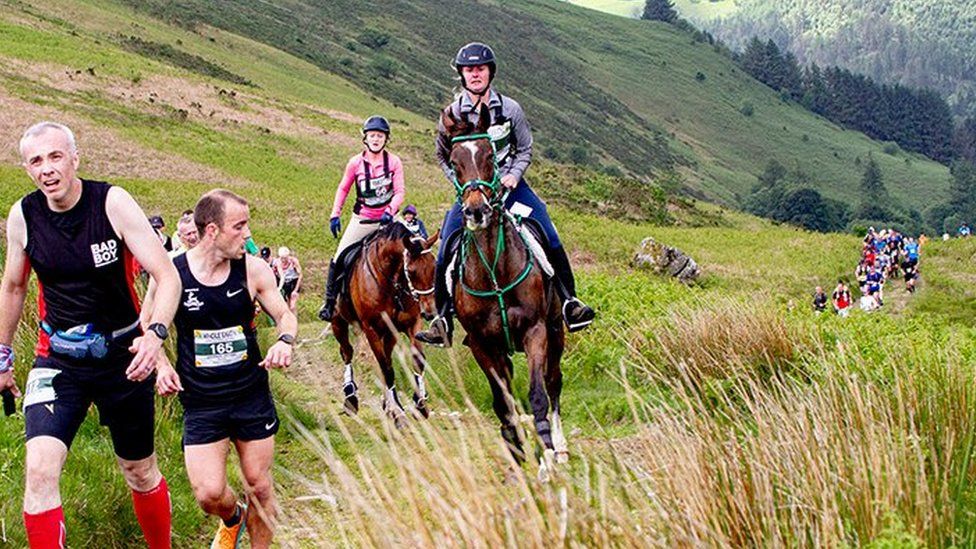 The winner of the gruelling Man v Horse race has revealed he had been awake for 29 hours before the event after flying from Tenerife to claim victory.
Trail runner Ricky Lightfoot became only the third person to win the race since it started in 1980.
He told the BBC he had woken at 06: 00 BST on Friday before catching a flight to Manchester at midnight.
Landing at 04: 00 he travelled to Wales, arriving at Llanwrtyd Wells, Powys, at 09: 00 for the race start at 11: 00.
Crossing the line, the 6ft 4in (1.93m) athlete had no idea whether he had won as the people and animals take slightly different routes.
After asking around, he discovered he had come out on top against 1,000 runners and 50 horses with a time of 2: 22: 23.
He took home £3,500 after beating the first horse by more than two minutes on the 22.5-mile (36km) course.
The 37-year-old Cumbrian said winning was "pretty good, like".
"It's great to win the event and beat the horse," he said.
"I called my partner and said: 'I beat the horse'. And she said: 'You're joking?'.
"And I said: 'No, I did.' She was like, 'oh my God!'"
The firefighter said he had been quietly confident.
"I thought I could give the horse a good race," he explained.
Since his win, he has been asked if he will enter the Grand National next.
"It would be great if I could win the Grand National," he said.
"I've never rode a horse in my life. I once rode a donkey at Blackpool Pleasure Beach though."
After winning, the father of two then made his way home to Maryport, in Cumbria, as he had to be back in work at 07: 30 on Sunday.
Race director Mike Thomas said Mr Lightfoot, a member of Cumbria running club Ellenborough AC, beat the horses "quite comfortably" on Saturday.
The last time a human beat a horse in the race was in 2007, and the first time was in 2004.
The race, which returned after two years due to the pandemic, began on tarmac but took in forest tracks and open moorland.
The jackpot prize for a runner who beats the first horse and rider starts at £500 and increases by £500 each year the event takes place until it is won.
The most recent prize pot had been accumulating since 2014.