By Peter Hoskins
Business reporter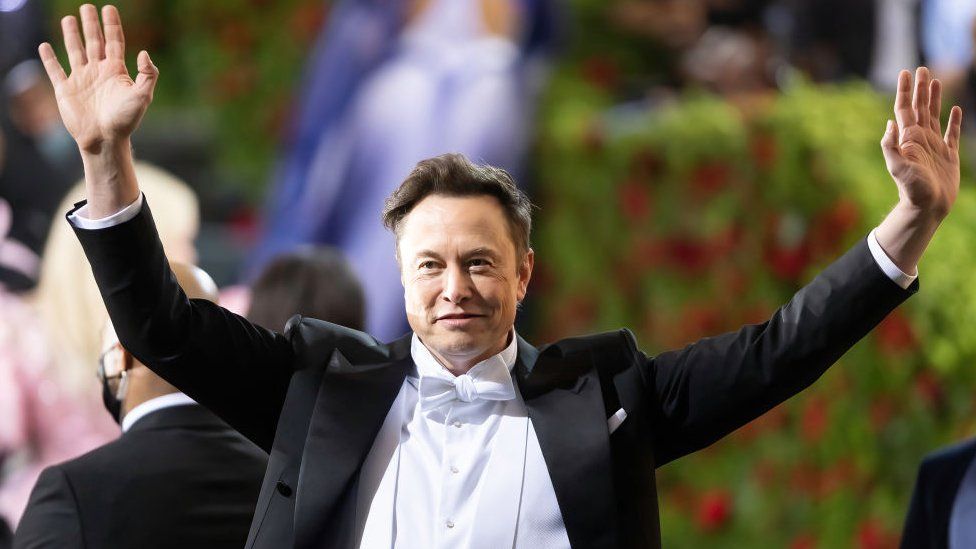 UK MPs have invited Elon Musk to parliament so they can quiz him about his planned purchase of Twitter.
The Commons Digital, Culture, Media and Sport Committee said it wanted to hear more about the billionaire's plans to balance "free speech" with "obligations to protect Twitter's users".
There are concerns Mr Musk has plans to relax content rules, which critics say could increase hate speech on the site.
But others have welcomed his commitment to protect freedom of expression.
In a letter to the Tesla boss, committee chair Julian Knight said the MPs supported Mr Musk's commitments to remove all spam accounts and automated bots from Twitter.
"In particular, your intention to roll out verification for all users echoes our calls on the UK government as part of proposed legislation, which we hope will restore the UK public's trust in digital platforms," the Conservative MP wrote.
"I therefore wish to take this opportunity to invite you to speak before our committee and discuss your proposals in more depth," he added.
"I know you have expressed your wish that critics remain on Twitter and this may present an opportunity to address any critiques in public."
In a further statement, Mr Knight said the committee was keen "learn more about how Mr Musk will balance his clear commitment to free speech with new obligations to protect Twitter's users from online harms".
"Appearing before the committee will give Mr Musk an ideal opportunity to set out his proposals for Twitter in more depth and we would look forward to welcoming him," he said.
'Authenticate all humans'
Mr Musk agreed a $44bn (£34.5bn) takeover deal with the Twitter board last month, and said at the time that as well as improving the free speech principles of the site, he was looking forward to "enhancing the product with new features".
As well as improving verification, the SpaceX boss has suggested cutting the price of the Twitter Blue subscription service and wants to bring in a tool to edit already posted tweets.
On Monday at the annual Met Gala in New York, he also said he would make Twitter transparent about how tweets are promoted or demoted and wanted its software to be available for public scrutiny.
But critics, largely on the political left, have warned that the billionaire's support of absolute free speech could allow hate speech to flourish.
They also fear that suspended accounts, such as that of former US President Donald Trump, could be reinstated.
Twitter will always be free for casual users, but maybe a slight cost for commercial/government users

— Elon Musk (@elonmusk) May 3, 2022
The BBC is not responsible for the content of external sites.View original tweet on Twitter
Separately, Mr Musk said on Tuesday that business and government users of Twitter may need to pay a "slight" fee to stay on the social media platform in future.
However, he said the site would always be free for "casual users".
Earlier, the billionaire had tweeted a link to a CNN story which called for top brands to boycott Twitter if Mr Musk rolls back content moderation policies limiting hate speech.
Twitter did not immediately respond to a BBC request for comment.
Meanwhile, Mr Musk has reportedly told potential investors that he may return the social media firm to the stock market in just a few years.
Mr Musk plans to sell Twitter shares again as little as three years after buying it, according to the Wall Street Journal, which cited people familiar with the matter.
His takeover of the company is expected to be completed later this year, subject to conditions including the approval of Twitter's shareholders and regulators.
Under the deal he will buy all the shares in the company that are currently available on the stock market, taking it from being a publicly-owned company to a private one.
Mr Musk is the world's richest person, with an estimated net worth of around $250bn, mostly due to his Tesla stake.
He also has a controlling stake in the rocket company SpaceX, which is estimated to be worth $100bn.
You may also be interested in: