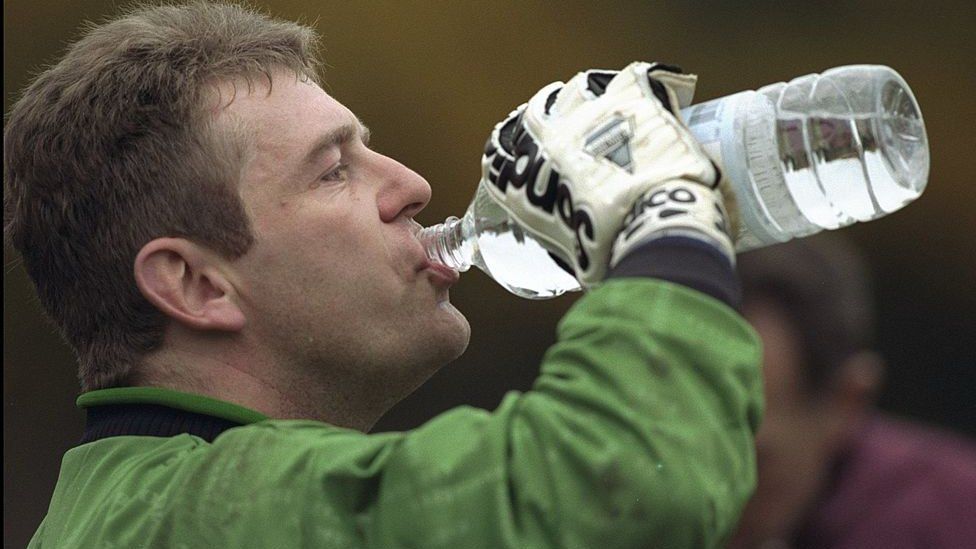 Former Rangers and Scotland goalkeeper Andy Goram has revealed he has oesophageal cancer and been given about six months to live.
Goram, 58, told the Daily Record he turned down chemotherapy as it would only extend his life by three months.
Two people who have been treated for the disease, sometimes known as a "silent killer", have spoken to BBC Scotland about their experience.
'It felt like I had wind'
Paul Sinclair, from Kirkcaldy in Fife, started to experience what "felt like wind at the bottom of my rib-cage" in September 2020 and had a sensation that he had "eaten too much in one mouthful".
"I ignored it like everyone else does," he told BBC Radio's Good Morning Scotland. "It just felt like I had wind. I was eating fine, I had no pain.
"It was just an annoying niggle at the bottom of my rib-cage. It went on for about a week-and-a-half and then I thought 'I'm going to see someone about this'.
"I went to the doctor and he sent me straight for an endoscopy. That confirmed I had a tumour at the top of my stomach."
His experience is similar to that of Goram, who said he ignored heartburn symptoms after being unable to book a face-to-face GP appointment.
Paul went through four sessions of chemotherapy over an eight-week period before a six-week break.
Then he had an 11-hour operation, which also included the removal of his spleen, before another six-week break prior to more "very aggressive chemotherapy".
"I was very ill with both sessions of chemo," he said. "The second one was worse because you are already weak after the operation.
"As you recover you have to start learning to eat again, how to chew your food properly, have small portions and a lot of meals throughout the day."
Three years later, he is able to get back to the gym to do light training – but things will never be "totally normal".
"You have just got to stay positive and be thankful for every day you wake up," he said.
"The important thing is it wasn't particularly major symptoms I had, but it is really important not to ignore it and to get it checked."
What are the symptoms of oesophageal cancer?
The oesophagus is the long tube that carries food from the throat to the stomach. The main symptoms of the cancer are:
having problems swallowing (dysphagia)
feeling or being sick
heartburn or acid reflux
symptoms of indigestion, such as burping a lot
a cough that is not getting better
a hoarse voice
loss of appetite or losing weight without trying to
feeling tired or having no energy
pain in your throat or the middle of your chest, especially when swallowing
'You're never fully recovered'
Linda Moffat, from Auchterarder, Perth and Kinross, considered herself a fit 48-year-old who rode horses every day until December 2014.
Then she "started to feel my food go down – it was just kind of sticking," she recalled. "The pain progressed and the food was getting stuck.
"I was having to be sick to un-block it. I just thought it was an ulcer. We just thought 'Ach, it is going to be nothing'."
After a while she "plucked up the courage to speak to the doctor" and was put on antacids. But the symptoms continued and she was sent for an endoscopy.
That revealed a "very advanced tumour" at the junction of her oesophagus and the start of a "very long, difficult journey".
"It's a very aggressive cancer and really brutal surgery – eight hours in theatre," she said. "You've got chemotherapy before and after. You have to learn to eat again.
"You have lots of problems with sickness and diarrhoea and pain. I don't think you're ever fully recovered.
"I am very lucky. My cancer was very advanced and I was only given a 20% chance of survival.
"But I'm nearly seven years on now and I'm very happy to be alive and very grateful to everyone who helped me to be here."
Ms Moffat said reading about Goram's diagnosis and others suffering with oesophageal cancer was "absolutely heart-breaking".
"It's often called the silent killer because the symptoms vary so much," she added. "You just hope and pray people get to the doctor early enough."
'Earlier the better'
Caroline Geraghty, a specialist nurse at Cancer Research UK, said the risk of oesophageal cancer rises with "the usual things" such as smoking, alcohol and weight gain, as well as chewing tobacco.
"But having an increased risk doesn't mean you will definitely go on and get cancer," she pointed out. "For most people, we don't know why they get oesophageal cancer."
Ms Geraghty urged anyone who thinks they may have symptoms to go to their GP "to be on the safe side".
"As we know, the earlier you get to a cancer, the better the chances you have," she added.
Statistics from Public Health Scotland released on Tuesday showed 155,405 NHS patients were waiting to be seen for the eight key diagnostic tests on 31 March.
Numbers have gone up 10% in the first three months of the year and are 75% higher than the average before the pandemic.
David Ferguson, of Cancer Research UK in Scotland, said it was "unacceptable" that people were waiting too long for tests to determine whether they have cancer.
Ms Geraghty added that for the majority of patients, their symptoms will not be cancer-related.
"You can understand why some GPs won't go straight to endoscopy to investigate – some people just need antacids," she said. "But there will be some individuals who maybe need to be sent for investigation quicker."