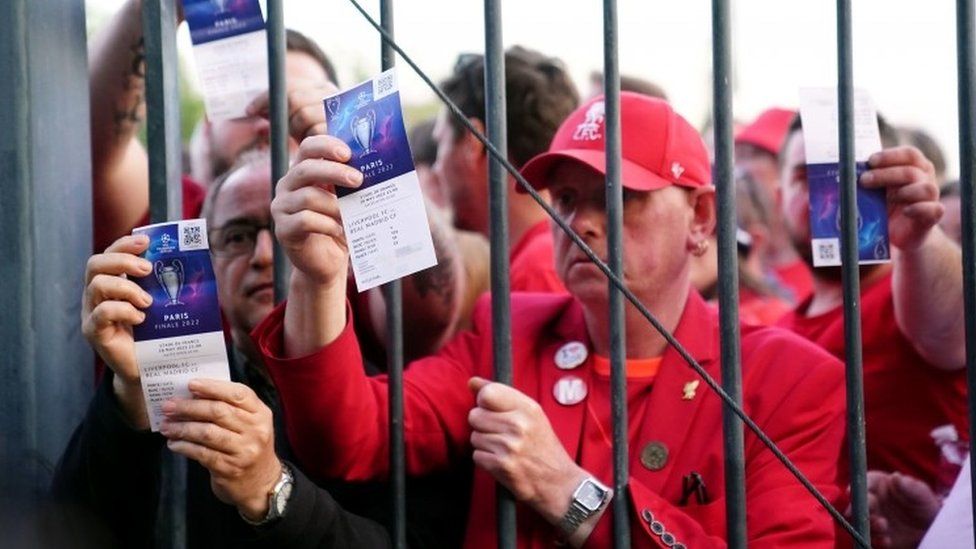 France's Interior Minister has defended how police handled Saturday's Champions League final in Paris which saw some Liverpool fans being tear gassed.
Gérald Darmanin said the event could clearly have been handled better but that enough police were at the game.
Of the two sets of supporters, Real Madrid and Liverpool, he said only the English club's fans posed problems.
Liverpool fans have described heavy-handed policing, organisational chaos and overcrowding at the showpiece game.
They have strongly contested the version of events from French authorities, who have blamed ticket fraud and accused Liverpool football club of failing to control their fans.
The match, which was eventually won by Real Madrid, was delayed when long queues of Liverpool fans built up outside the stadium in Paris.
French police used tear gas and pepper spray on some supporters.
Appearing before a Senate committee, Mr Darmanin said French police would be sent to the UK and Spain next week to help any citizens who believed they were victims of crime to file a complaint.
Questioned about security at the game he said: "The negative image of this match is a wound to our national pride and it is obvious that things could have been better organised. Did we avoid the worst? Yes. Could we have planned more? No doubt."
He apologised for "disproportionate" use of tear gas, saying that two cases had been referred to France's police watchdog. But he also said tear gas had prevented crowd crushes.
President Emmanuel Macron said earlier he fully supported the interior minister, who has faced criticism over how police handled the final. A spokeswoman said he wanted the light "shone on what really happened, in full transparency, and very quickly".
But behind the scenes, French media have said the president is furious with Mr Darmanin's response. And satirical weekly Le Canard Enchaîné said the president had found the events outside the Stade de France "shameful" and "unworthy of France".
Europe's football governing body Uefa has commissioned an independent report into what happened at the final.
Liverpool's chairman Tom Werner complained that "the Uefa Champions League final should be one of the finest spectacles in world sport, instead it devolved into one of the worst security collapses in recent memory".
Many fans said they had arrived at the stadium hours before kick-off but were barred from getting into the ground.
It has also emerged that supporters were targeted by local gangs, with reports of mobile phones being stolen and girls and young women being groped. Six people appeared in court on Tuesday after dozens of people were arrested.
Footballing sources told AFP that 2,800 fake tickets were detected at the stadium gates, while the French Football Federation alleged that some 35,000 people had shown up with fake tickets or with no tickets at all, causing disorder by blocking the gates.
Mathieu Valet, a spokesman for France's independent police commissioner's union (SICP) told the BBC that it was not fake tickets or ticketless supporters who were the main problem: "It's clear that we needed more police – we didn't have enough on the ground."