By Adam Durbin & Dulcie Lee
BBC News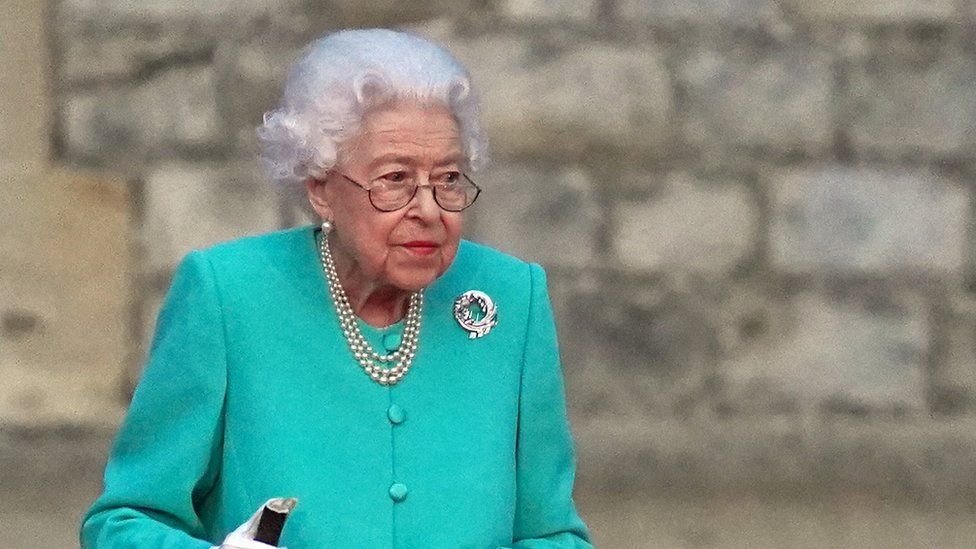 Members of the Royal Family will attend Platinum Jubilee celebrations across the UK later – although the Queen will miss her second event of the weekend.
The Queen has pulled out of the Epsom Derby and will instead watch it on TV from Windsor, Buckingham Palace said.
The third day of the celebrations will also see tributes from the Prince of Wales and Duke of Cambridge at an open-air concert on Saturday evening.
William will also visit Cardiff, while Prince Edward is in Northern Ireland.
The Queen has been experiencing mobility problems in recent months and the palace had warned in advance that the monarch would consider which Jubilee events she felt able to attend.
The 96-year-old earlier pulled out of Friday's Jubilee thanksgiving service after experiencing "discomfort" during Thursday's events.
She had been due to attend Saturday's iconic horse race, but her daughter, the Princess Royal, is expected to officially represent the monarch instead.
Meanwhile, the Duke and Duchess of Cambridge are heading to Cardiff to meet the performers and crew behind a Jubilee concert at Cardiff Castle, which is separate to Saturday evening's concert in London.
At the same time, the Earl and Countess of Wessex will carry out two engagements in Northern Ireland. Prince Edward – the Queen's youngest son – and his wife Sophie will meet children taking part in multicultural street performances, join in with art and craft sessions, and speak to people sharing their personal memories of meeting the Queen.
On Friday, Princess Anne visited Edinburgh Zoo to feed penguins and learn about caring for wildlife accompanied by Ukrainian refugee children.
Later on Saturday, Prince Charles and Prince William will pay tribute to the Queen during a special Jubilee concert outside Buckingham Palace, called Party at the Palace.
They will address a live audience of 22,000 during the BBC's two-and-half-hour open-air show.
It is considered unlikely the Queen will be at the concert, given the avid horse racing fan is to miss the Derby, but confirmation of whether she will make an appearance is expected on the day.
Diana Ross, Queen + Adam Lambert, Alicia Keys, Hans Zimmer, George Ezra, and Eurovision 2022 runner-up Sam Ryder are among the stars performing at the concert.
Sir David Attenborough, David Beckham and Stephen Fry will also feature, and there will be a specially recorded performance from Sir Elton John.
Speaking ahead of the concert, disco legend Nile Rodgers told the BBC he was expecting an "incredibly festive" atmosphere.
"I've been playing in the UK since the early 1970s and I don't think I've ever seen the country this happy and zhuzhed up and decorated. I expect the concert to be completely out of control," he said.
And Italian operatic tenor Andrea Bocelli said: "The psychological condition when you do one of these performances… is like when a football player has to kick the last penalty – I just hope that after many years of my career, I can manage the pressure!"
Singer-songwriter Mabel told the BBC it was an "honour" to perform, and Ella Eyre – who was at Buckingham Palace for Prince William and Catherine's wedding – said it was "surreal to be on the other side", adding that the production was "phenomenal".
On Friday, the Queen's love of horse racing was referenced amid tributes at a packed thanksgiving service at St Paul's Cathedral on Friday,
Archbishop of York Stephen Cottrell praised her for "staying the course" and said she was "still in the saddle", even though she was not able to attend.
New unseen footage showing the Queen's affection for horses will also be broadcast on Saturday, with clips of her caring for the animals at the Royal Stud Sandringham.
In the videos – to be shown as part of ITV's coverage of the Jubilee celebrations – she is seen feeding, observing and talking affectionately to several horses and foals, alongside her breeding and racing adviser John Warren.
In one clip as she observes two horses, the Queen is heard to say: "I often wonder what goes through her head".
Derby Day will see the Queen's unprecedented 70 years on the throne celebrated by 40 retired and current jockeys who have ridden for the monarch, and will form a guard of honour.
The jockeys will dress in her distinctive purple, gold and red racing silks, and racecourse owners the Jockey Club say the Queen's Stand will be permanently renamed the Queen Elizabeth II Stand.
Analysis
By John Hunt, BBC Radio 5 Live racing commentator, at Epsom
The Queen loves nothing more than a day out at the Derby, and of course a day out or two at Royal Ascot which is only two weeks away.
There are hopeful whispers around the racing community that Her Majesty, even though she can't make the races tomorrow, might be able to attend at least one day at Royal Ascot.
The Queen is of course a huge supporter of horse racing – she's absolutely been involved from the word go.
Four days after her coronation in 1953, she came to Epsom to see her horse very nearly win the Derby.
She's been locked in from that day onwards – and has been to most of the Derbys ever since.
Sadly not to be this year – but I'm sure she'll be watching on, deeply interested.
The Queen's hopes of having a winner on this year's Derby Day ended earlier as her only runner was pulled out of a race.
Thoroughbreds owned by the Queen have won four out of the five flat racing classics, with only the Derby eluding her.
Meanwhile, a Jubilee attendee said she was told the Queen was "fine" by the Duchess of Cambridge during an event at London's Guildhall on Friday.
Gill Smallwood told PA news agency she had asked after the Queen during a conversation with the duchess, who replied that the monarch had found the first day of Jubilee celebrations "very tiring", but had a "lovely time".
Saturday is also the first birthday of Prince Harry and Meghan's daughter Lilibet, who travelled with her parents and older brother Archie for her first visit to the UK.