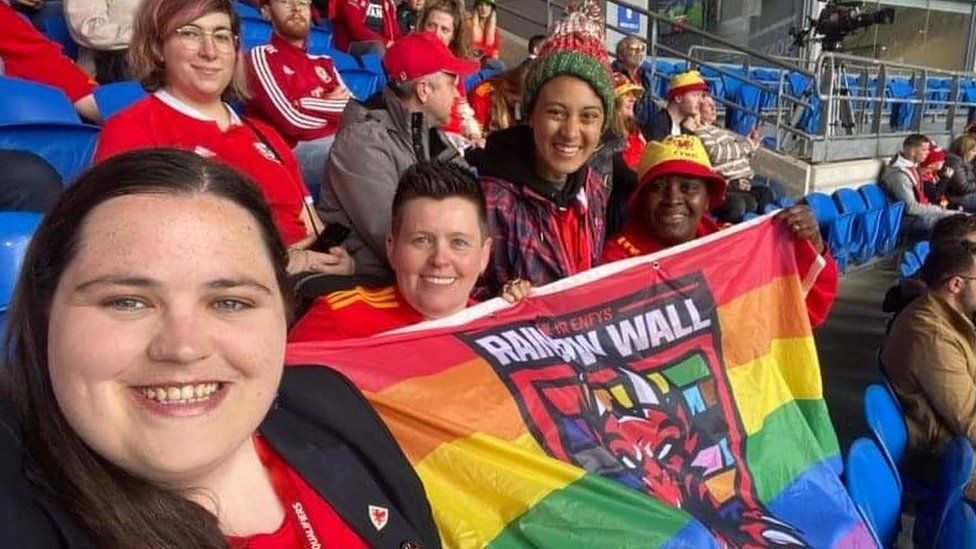 Some Wales football fans are to boycott the Fifa World Cup in Qatar due to the host country's stance on gay rights.
Wales qualified for the tournament for the first time in 64 years after winning their play-off final against Ukraine.
However Tracy Brown, of Wales' official LGBTQ+ supporters' group, said many members did not believe it was safe to travel to the Middle East in November.
Homosexuality is illegal in Qatar and punishable with prison sentences.
In the Senedd on Tuesday First Minister Mark Drakeford said Wales should "not look the other way" from human rights concerns in Qatar.
Ms Brown, from the Rainbow Wall supporters' group, said: "I, for one, won't go.
"On one hand I'm stoked that we've got there, it's been a long time coming.
"If it was anywhere else in the world I would be thinking I want to be there supporting.
"But I'm going to be sat at home watching us play, because I don't feel safe to go."
Equality campaign group Kick It Out previously announced the formation of a working group to look at inclusivity issues in Qatar.
Fatma Al-Nuaimi, communications executive director of Qatar's supreme committee for organising the tournament, told BBC Sport: "It's a tournament for everyone, a tournament of firsts, and a tournament where everyone will be welcome."
But Ms Brown said that had not convinced her, or others, to change their mind.
"Just saying it's safe while a competition is on doesn't seem right," she said.
"So Fifa said you're safe to be yourself for the period of the World Cup, but when I leave there's still an LGBTQ+ community who pretty much live in hiding.
"They're not safe and I have to stand by my values.
"I want to go to a country where I feel safe and welcome all the time."
At first minister's questions in the Welsh Parliament Mark Drakeford said: "We should not look the other way from reservations that we would have as a nation from some of those human rights issues that we see there."
He said Economy Minister Vaughan Gething raised human rights issues with Qatari authorities when he visited in May.
"We must ourselves make sure that those opportunities are not missed while the eyes of the world are on that country," he added.
The decision by Fifa to host the World Cup in the country has been widely criticised, with Qatar's wider record on human rights also under scrutiny.
Amnesty International have also been critical of Qatar's record on gay rights, as well as its treatment of migrant workers.
Felix Jakens, head of campaigns at Amnesty International UK, said the organisation had "multiple concerns".
"This is a time when footballers in our own country are finally coming out as gay, where there's more acceptance around LGBT people's participation," he said.
"It's shocking that the World Cup is being held in a country where being gay is criminalised."
The Independent newspaper's international editor, David Harding, worked as a journalist in Qatar for four years.
He said supporters who were planning to go to the World Cup would need to be prepared for a very different experience to previous international events.
"People will have to modify their behaviour. That is just a given, you're going to a very strict, conservative, religious country," he said.
Mr Harding said he was confident most LGBTQ+ supporters who chose to go to Qatar would not encounter serious problems, with authorities eager to avoid controversy.
"The LGBTQ community in Qatar are very angry at what Fifa and Qatari officials are doing," he said.
"In effect, they're saying for three weeks we'll go easy, we won't do anything, and then we'll treat Qatari LGBTQ people as bad as we treat them all the time once the World Cup is over.
"There will be some crunch points, if people wave flags or start a protest. I think these sorts of things could lead to problems. The police will not take your side if they feel you are breaking the law".
Ms Brown said she did not know of any LGBTQ+ supporters from the UK who planned to travel.
"Some of my friends are part of [England's official LGBTQ+ supporters' group] the Three Lions Pride Group and they are also having the exact same conversations," she said.
"The vast majority of us wouldn't feel safe.
"I feel like we're missing out on a huge competition because we're choosing to be our authentic selves."